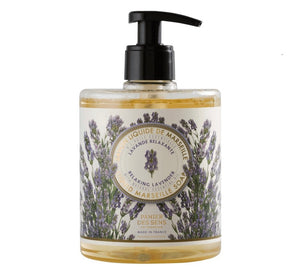 shopmodagirl.com
RELAXING LAVENDER LIQUID MARSEILLE SOAP
Regular price
$19.99
$0.00
Unit price
per
Cooked in a cauldron in the traditional recipe, our liquid soap is based on vegetable oils. We guarantee thaht our liquid soap doesn't contain any artificial coloring, animal fat or synthetic surfactant.
Essential Oil relaxing lavender
Also known as "blue gold", lavender is an aromatic tribute to Provence. It is the fragrant soul of the region, the fruit of respectful labor. It grows on arid, calcareous and rocky ground between 800 and 1300m high.
Lavender essential oil is particularly good for sensitive and irritated skin. Its well-being and serenity fragrance is very efficient as an anti-stress to regain relaxation and peace. Thanks to its specific action on the nervous system, it also helps to reduce fluster, head ache and sleeplessness.
---